Dear Friend,

Harvest is here! And really, it's not a moment too soon. Once again, this summer's weather pattern proved to be unpredictable. Early rains in June severely affected the critical flowering season. By July, we had very mild days with virtually no heat spikes or days with temps in the 90s. Most of us agree that July was a cooler than average month for wine country. August brought more of the same cool mornings followed by 80 degree days. In the vineyard, the grapes developed slowly and yields were well off of what we would expect (again, those early summer rains were unwelcome). As the first crop begins to trickle in, the fruit is looking remarkably good. Our old friend Chenin Blanc has finally made its way from Clarksburg and looks delicious!

In terms of the crazy weather pattern, it appears that Sauvignon Blanc has taken the worst of the season with yields dramatically lower than expected. Not to worry though – our winemaking team is on top of the situation as usual! We're expecting the rest of harvest to be as unpredictable as the 2011 growing season. In the end, we are confident that the talent in our vineyard and cellar will bring in another outstanding vintage for Dry Creek Vineyard.

Cheers!
The Dry Creek Vineyard Family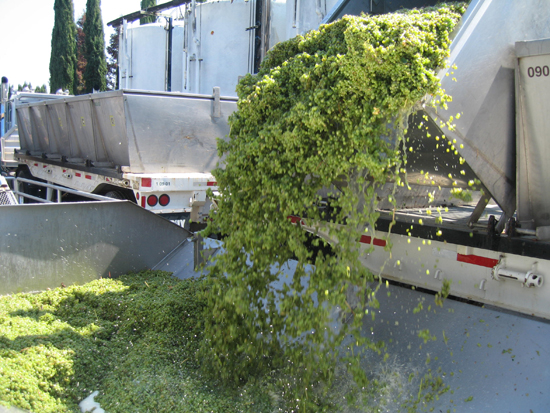 HOLIDAY OPEN HOUSE

Saturday, November 26, 2011
Noon to 4 p.m.  Complimentary



Our annual Holiday Open House is a terrific way to get into the spirit of the season. Our tasting room is beautifully decorated with a roaring fire as a backdrop to our cozy atmosphere. Browse through our tasting room for
the latest wine country gifts, sample complimentary appetizers and taste through our latest releases. If you're looking for that perfect Saturday getaway during Thanksgiving weekend, this is the event for you and your family. Admission is complimentary.
We look forward to seeing you!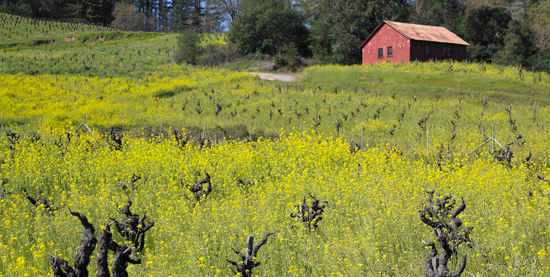 It's been called an open-air grape museum. A shrine to a bygone era of grape growing in the Dry Creek Valley. Stepping into the Beeson Ranch vineyard for the first time certainly feels like a walk back in time. 
Planted in 1892, Beeson Ranch is one of the few pre-Prohibition vineyards remaining in the Dry Creek Valley. Located on West Dry Creek Road, the vineyard faces east and has approximately eight acres of planted vines. The first thing that is striking about the property is how the land rolls gently upward toward a forest of conifer trees. Looking at the soil from the road, you can see that the flatter areas are more rocky while the hills appear to have a sandy, reddish color. A closer inspection reveals a varied topography that speaks to the nature of each grape vine. Historically, vineyards like this were planted by Italian immigrants who would interplant their vineyards with Mourvèdre Alicante Bouchet and other such varieties. These field blends provide a unique wine as each variety ripens slightly differently and offers complexity that the winemaker can't often duplicate by blending individual lots of wine.  
At this incredible property, the combination of soil, old-world farming techniques, and sense of place have all contributed to producing our Beeson Ranch Zinfandel. And in fact, some of the Beeson Ranch fruit is blended into our Old Vine Zinfandel. Ultimately, the age of the vines has only added to the allure and mystery of the aromas and flavors in this one-of-a-kind bottling.

The most exciting news is our addition of Tim Bell as Winemaker. Tim brings a wealth of knowledge and talent to our winemaking team. His exacting standards and attention to detail will make him an invaluable asset as we move forward. Bill Knuttel remains in the role of Consulting Winemaker and will be working closely with Tim during harvest.

As always, we are thrilled to welcome our harvest interns. This is a long standing tradition that founder Dave Stare started back in the early 1970s. Donovan Ackermann attended Elsenburg Agriculture College in Stellenbosch, South Africa, where he studied for a Bachelors degree in Agriculture. He has worked harvest in South Africa at Guardian Peak Wines and Lourensford Wine Estate, at Chateau de Panery in France, and at Houghton winery in Australia. Kosie Van Der Merwe also attended the University of Stellenbosch where he studied for a Bachelors degree in Agriculture. He has worked harvest in South Africa at Nel Brothers and Rust en Vrede, and at Chateau de Panery in France.
Left to right:

Donovan Ackermann
Tim Bell
Kosie Van Der Merwe


Click on the thumbnails to see full reviews of these awesome wines.
Grilled Watermelon Salad
A unique and refreshing salad to enjoy on warm Indian summer nights. Start off with this Grilled Watermelon Salad and a glass of our luscious and lively 2010 Petite Zin Rosé. Then toss your favorite meat on the barbeque and enjoy our 2008 Spencer's Hill Zinfandel with family and friends.
---